Het is herfst! De blaadjes vallen van de bomen, de grenzen tussen de verschillende werelden worden wat dunner, de wereld krijgt een sepia filter over zich heen. Voor boekennerds het seizoen om eens lekker de boeken in te duiken! Met dit weer zitten we namelijk liever in een magisch koninkrijk, vliegen we op draken of veroveren we eilanden met onze zwaarden. Hier de top 5 Autumn Reads (in het Engels)!
1. Little White Lies – Jennifer Lynn Barnes
Als je even een contract met 6 cijfers aangeboden krijgt om mee te doen aan een debutante seizoen. PRIIIIIMAAAA. Big hair, big dresses and big secrets! Lekker wegzwijmelen terwijl je probeert het mysterie te ontrafelen. Perfect voor een avondje bankhangen met je theepot.
---
"I'm not saying this is Sawyer's fault," the prim and proper one said delicately. "But."
Eighteen-year-old auto mechanic Sawyer Taft did not expect her estranged grandmother to show up at her apartment door and offer her a six-figure contract to participate in debutante season. And she definitely never imagined she would accept. But when she realizes that immersing herself in her grandmother's "society" might mean discovering the answer to the biggest mystery of her life-her father's identity-she signs on the dotted line and braces herself for a year of makeovers, big dresses, bigger egos, and a whole lot of bless your heart. The one thing she doesn't expect to find is friendship, but as she's drawn into a group of debutantes with scandalous, dangerous secrets of their own, Sawyer quickly discovers that her family isn't the only mainstay of high society with skeletons in their closet. There are people in her grandmother's glittering world who are not what they appear, and no one wants Sawyer poking her nose into the past. As she navigates the twisted relationships between her new friends and their powerful parents, Sawyer's search for the truth about her own origins is just the beginning.
Set in the world of debutante balls, grand estates and rolling green hills, Little White Lies combines a charming setting, a classic fish-out-of-water story, and the sort of layered mystery only author Jennifer Lynn Barnes can pull off.
---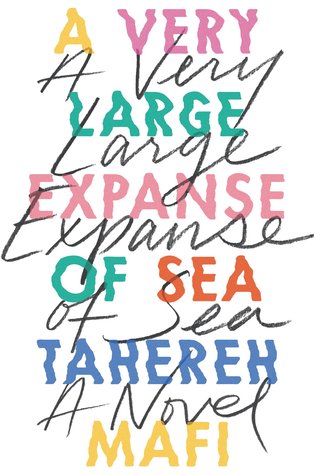 2. A Very Large Expanse of Sea – Tahereh Mafi
Kom op, het is miss Mafi-Riggs. Need I say more? Need you know more?
---
It's 2002, a year after 9/11. It's an extremely turbulent time politically, but especially so for someone like Shirin, a sixteen-year-old Muslim girl who's tired of being stereotyped.
Shirin is never surprised by how horrible people can be. She's tired of the rude stares, the degrading comments—even the physical violence—she endures as a result of her race, her religion, and the hijab she wears every day. So she's built up protective walls and refuses to let anyone close enough to hurt her. Instead, she drowns her frustrations in music and spends her afternoons break-dancing with her brother.
But then she meets Ocean James. He's the first person in forever who really seems to want to get to know Shirin. It terrifies her—they seem to come from two irreconcilable worlds—and Shirin has had her guard up for so long that she's not sure she'll ever be able to let it down.
---
3. Seafire – Nathalie Parker
Aye aye captain! Dit is een lekkere feministische read die je meeneemt op zee naar een vloot volle vrouwelijke piraten. De Amazones van de zee!
---
After her family is killed by corrupt warlord Aric Athair and his bloodthirsty army of Bullets, Caledonia Styx is left to chart her own course on the dangerous and deadly seas. She captains her ship, the Mors Navis, with a crew of girls and women just like her, who have lost their families and homes because of Aric and his men. The crew has one mission: stay alive, and take down Aric's armed and armored fleet.
But when Caledonia's best friend and second-in-command barely survives an attack thanks to help from a Bullet looking to defect, Caledonia finds herself questioning whether to let him join their crew. Is this boy the key to taking down Aric Athair once and for all . . . or will he threaten everything the women of the Mors Navis have worked for?
---
4. Sawkill Girls – Claire Legrand
Dit mysterieuze boek heeft een duister tintje. Perfect voor een stormachtige avond op de bank en perfect voor Halloween!
---
Beware of the woods and the dark, dank deep.
He'll follow you home, and he won't let you sleep.
Who are the Sawkill Girls?
Marion: the new girl. Awkward and plain, steady and dependable. Weighed down by tragedy and hungry for love she's sure she'll never find.
Zoey: the pariah. Luckless and lonely, hurting but hiding it. Aching with grief and dreaming of vanished girls. Maybe she's broken—or maybe everyone else is.
Val: the queen bee. Gorgeous and privileged, ruthless and regal. Words like silk and eyes like knives, a heart made of secrets and a mouth full of lies.
Their stories come together on the island of Sawkill Rock, where gleaming horses graze in rolling pastures and cold waves crash against black cliffs. Where kids whisper the legend of an insidious monster at parties and around campfires.
Where girls have been disappearing for decades, stolen away by a ravenous evil no one has dared to fight… until now.
---
5. Damsel – Elana K. Arnold
Een verhaal dat het klassieke "prins red meisje in nood en ze leefde nog lang en gelukkig" in een ander, veel donkerder, licht zet.
---
The rite has existed for as long as anyone can remember: when the prince-who-will-be-king comes of age, he must venture out into the gray lands, slay a fierce dragon, and rescue a damsel to be his bride. This is the way things have always been.
When Ama wakes in the arms of Prince Emory, however, she knows none of this. She has no memory of what came before she was captured by the dragon, or what horrors she has faced in its lair. She knows only this handsome prince, the story he tells of her rescue, and her destiny to sit on the throne beside him. Ama comes with Emory back to the kingdom of Harding, hailed as the new princess, welcomed to the court.
However, as soon as her first night falls, she begins to realize that not all is as it seems, that there is more to the legends of the dragons and the damsels than anyone knows–and that the greatest threats to her life may not be behind her, but here, in front of her.
---
En? Welke boeken ga jij aan je TBR toevoegen voor deze herfst?
Liefs,
Manon